Back in Motion has experience treating a variety of issues that cause wrist and hand pain. From carpal tunnel to rehabilitation after a fracture, let us help ease your pain.
What are the risk factors for wrist and hand pain?
You use your hands and wrists every day for just about every type of activity you can imagine. When your hands or wrists are in pain, things that were once simple can become quite difficult. 
Hand and wrist pain can develop for a variety of reasons. Overuse and strain can cause pain in the tendons, ligaments and muscles. Chronic conditions can damage the cartilage in the joints. Physical trauma can cause fractures. Regardless of the cause, when you have hand and wrist pain that is long lasting or more intense than mild soreness, it's time to talk to a professional about your treatment options.
What are the symptoms for wrist and hand pain?
Pain itself is the first and most obvious symptom of hand and wrist pain. The sensation of pain you experience can vary depending on the cause of your condition. For example, you may experience a dull and achy pain or a sharp and burning pain. 
Other symptoms that indicate you should seek professional treatment for hand and wrist pain include:
Swelling or redness

Sensitivity to touch

Swollen fingers

A grinding, crunching sensation in your joints

Difficulty grasping objects

Numbness or tingling in the fingers or wrist
Causes of hand and wrist pain
There are a wide range of conditions that cause hand and wrist pain, including but not limited to:
Carpal tunnel syndrome

— Pain in the wrist that stems from irritation and pressure on the carpal tunnel, which houses the ulnar nerve running from your hand through your wrist.

Arthritis

— The cartilage in the joints is broken down, causing friction between the bones in the joints. The loose fragments of cartilage also cause pain and difficulty with range of motion.

Tendinitis

— Repetitive strain or overuse can irritate the tendons in your hands and wrists, leading to chronic pain.

Traumatic injury

— A severe impact or falling on your hand or wrist can cause an injury, such as a fracture or sprain. 
Physical therapy treatment options for wrist and hand pain
Treatments for hand and wrist pain vary depending on the cause of the pain and other factors, such as age and medical history. Some conditions may require medical or surgical intervention. However, many conditions can be treated with physical therapy instead.
Physical therapy is a preferred treatment option for many people because it helps reduce pain and improve range of motion without the use of invasive procedures or drugs. The primary goal of many physical therapy treatments for hand and wrist pain is to strengthen and stretch the muscles and ligaments, which can help reduce pain and increase functionality.
At Back in Motion Physical Therapy, we always personalize treatments to the needs of each individual patient. If you visit us for help with your pain, we can provide treatment that may include:
Gentle stretches and exercises

Soft tissue mobilization

Joint mobilization

Posture education and more
If your condition is so severe that you need surgery, you should still look into physical therapy. A physical therapist can help you prepare for surgery and experience an improved recovery afterward.
Schedule an appointment for hand and wrist pain at Back in Motion Physical Therapy
The team at Back in Motion Physical Therapy has been treating conditions like hand and wrist pain for many years. If you are suffering from hand or wrist pain and would like help reducing your pain and regaining your range of motion, contact us today for more information or to schedule an appointment with one of our physical therapists.
More articles about wrist and hand pain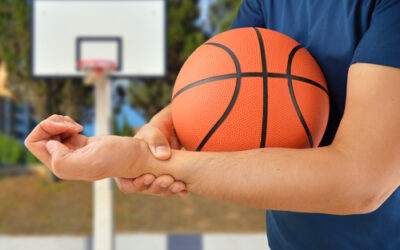 Rotating your hand is something you do every time you turn a doorknob. However, commonplace tasks like this can cause you to hear grinding noises in your wrist. They can even cause pain in some cases.  The exact cause of wrist grinding when you're rotating your hand...
The Road to Recovery Starts Here
Our Patients Love
Back In Motion!