Here for you when you need it
You have the freedom to schedule an appointment with a physical therapist without waiting for a doctor's referral
Welcome To


Back In Motion
Your success is what drives us at Back in Motion Physical Therapy. Our team is here for you whether you have a sudden, unexpected injury or are suffering from chronic pain.
Our team of highly trained and experienced physical therapists specialize in treating a wide range of musculoskeletal injuries to help people manage pain, improve range of motion and improve quality of life. 
We offer personalized treatments to fit the needs of each patient. When you visit us for help with your aches and pains, we'll assess your condition and review your medical history to come up with a course of treatment that helps you reach your recovery goals.
At Back in Motion® Physical Therapy, LLC, our purpose is to change people's lives by providing pain relief and improving their quality of life.
From your first visit with us, you'll find people who are dedicated to your health, well-being, and making your care as pleasant as possible.
4.8
s from 169 Google Reviews
Our team strives to provide the highest levels of satisfaction for all of our patients. At any one of our clinics, you can expect the highest quality treatment for your aches and pains.
The Road to Recovery Starts Here
Featured Back in Motion Services
Suffering from pain or stiffness and don't know why? Identify where you are in pain and click on the corresponding white circle to discover different conditions that might be the cause of your pain.
Neck Pain
Pain and stiffness in your neck can make it difficult to turn your head or look up and down.
Shoulder Pain
Shoulder pain not only limits the use of your shoulder, but it can limit the use of your entire arm.
Elbow Pain
Pain and stiffness in the elbow can keep you from enjoying your favorite activities.
Wrist Pain
Wrist pain by itself is a problem, but it frequently affects your grip strength and the use of your hands too.
Hip Pain
Hip pain can limit your ability to move around and accomplish simple tasks or enjoy your favorite activities.
Knee Pain
Knee pain can make it difficult to do anything that involves standing, walking, running or jumping.
Ankle Pain
Your ankles carry the weight of your entire body. When they're in pain, it's hard to do anything that involves being on your feet.
Back Pain
80% of us are likely to develop back pain in our lifetime.
Your options for dealing with burning neck pain depend on the cause of your pain. However, visiting a physical therapist could be the most effective no matter what's causing your pain. Neck pain isn't that uncommon in the U.S.; medical researchers estimate that up to...
There it is again. You've just finished a long, stressful day at work, and you start feeling pain in your neck. What you may not know is that stress and neck pain are more connected than you might think. It's not a secret that Americans tend to have high-stress...
Driving. Cooking dinner. Holding on to the leash while walking the dog. Playing catch with your grandkids. These are all normal tasks that can become much harder to do with shoulder pain.  Injuries that cause pain in one or both shoulders are much more common than you...
Do you find your shoulders aching at the end of the day or when you have to reach for items? Your shoulders have to move through an incredible 180 degrees of motion, while still maintaining stability and strength. However, issues like rotator cuff injuries can make...
There are many sports-related injuries and repetitive motions that can contribute to elbow pain that is more pronounced during bending and straightening motions. For example, one of the most common conditions that causes these symptoms is called tennis elbow, or...
Answering this question can be very important of people living with hand osteoarthritis. After all, this condition can make life much more difficult. For instance, it can make opening jars a painful exercise. Hand osteoarthritis can also make work tasks like typing a...
In its most common form, known as osteoarthritis, arthritis is an inflammatory condition caused by age-related changes to the body. As we get older, the cartilage that helps to cushion our joints and allows for smooth motion begins to break down. This can lead to...
Doing too much jogging. Sitting or standing with poor posture. Impacts to the hip while playing sports. Hip pain can develop for many reasons, especially if you're an active person.  It's estimated that up to 40% of people who play sports develop hip pain in their...
Hip pain can be a very disruptive force in people's lives. It can make romping with the grandkids harder. Walking to the mailbox might become a task you avoid. There are many issues that can cause sudden sharp pain in the hip that comes and goes, but the most likely...
A total knee replacement is a complex and lengthy procedure. It can also cause lots of residual damage to soft tissue around the knee. Additionally, it's common to feel post-surgical pain for days or weeks after this procedure. In spite of these challenges, some...
Have you ever thought about how much you use your knee every day? Walking your kids to the bus stop. Sitting down at the dinner table. Walking up the stairs to your bedroom. These are just some of the normal daily activities that require you to use your knee, and they...
The most common cause of pain in the bottom of your foot and through your arch is plantar fasciitis. The plantar fascia is a ligament that connects the ball of your foot to your heel, making the arch in the middle of your foot. When this ligament is overused or...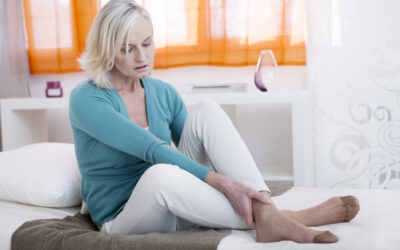 Stiff ankles in the morning can make it difficult to do nearly any everyday task. From walking to the shower, to making breakfast, if you know you're going to be dealing with ankle stiffness, you may not even want to get out of bed. Stiffness in both of your...
At some point in your life, you're bound to experience some form of back pain. Many cases of lower back pain in Gorham, Maine, are caused by poor posture, strains and overactivity. In these cases, the back pain tends to recede after a few days. If it doesn't go away,...
  Playing with your grandkids. Walking around the grocery store. Working at your desk. Back pain can make each of these normal daily tasks more difficult for you. Throughout your life, you're bound to experience some form of back pain. Indeed, medical research shows...
Our Patients Love
Back In Motion!