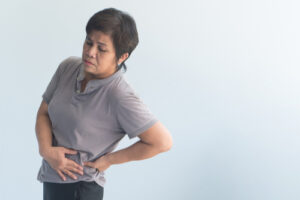 The answer to this question is likely to be slightly different for each person, but a broad answer is that you're experiencing radiating pain from a lower back or pelvic condition. 
Lower back pain is very common; research shows that it affects approximately 31 million Americans at any given time. However, pelvic pain is also a common problem, especially for women. In fact, one study found that 39% of reproductive-aged women in the U.S. had pelvic pain. Working with a physical therapist can help you figure out why you have back and pelvic pain. These specialists can help you find effective treatment for your pain, too. 
Three common sources of back and pelvic pain
There are many issues that can trigger discomfort in the lower back and pelvic area. Three of the most common of these issues include: 
Sciatica — Pinching or irritation of a sciatic nerve can trigger the pain you're experiencing. Sciatica often causes pain that starts in the lower back. But the pain also commonly runs down into the buttocks and even into the legs.

 
Fibromyalgia — This chronic pain condition is characterized by specific tender points in the body. A common location for these tender and painful areas is just above each buttock. From here, the pain of fibromyalgia can easily radiate into the pelvic area and lower back.

 
Sacroiliitis — You have a sacroiliac joint that joins each hip bone in the pelvis to the lower spine. Sacroiliitis occurs when these joints become inflamed and painful. The pain of this condition commonly starts in the pelvic area and then radiates into the lower back.
Physical therapy can help treat your lower back and pelvic pain
One option that can help treat the pain of the three issues above is physical therapy. Physical therapists are trained to address many musculoskeletal disorders, including the three above. This knowledge allows your therapist to design a therapy plan that's unique to your needs, and your plan can include therapy methods like: 
Back in Motion Physical Therapy offers treatment for back and pelvic pain
Fed up with feeling back and pelvic pain every day? Our team at Back in Motion PT offers therapeutic care that can help address both of these types of pain. We'll start by doing a free screening on you to determine the cause of your pain. Next, our physical therapists will construct a customized therapy program for you that's designed to reduce your pain and prevent its return. 
Don't want to leave your home right now? You don't have to! Our physical therapists can work with you in your own home via an at-home care or virtual therapy session. 
Contact us today for more information about the pain-reducing services we offer or to schedule your initial appointment.